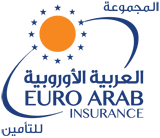 EURO ARAB INSURANCE GROUP  Established in 1996 under the name of Amman Insurance Co. Ltd, then after 2002 the company name changed to Euro Arab Insurance Group.
EURO ARAB INSURANCE GROUP is one of the pioneering insurance companies in the region .Throughout the years.
EURO ARAB INSURANCE GROUP has maintained sustainable growth and verified its ability to provide superior customer service, attractive rates and stability offering a wide spectrum of insurance covers including Motor, Marine, General, Medical and Life.
EURO ARAB INSURANCE GROUP is proud to enjoy the status of being the highest rated entity in Jordan BB- (stable) by S&P Global Ratings due to the proven capabilities and experience.
Our Vision:
Grow to Serve … Serve to grow …
Our Mission:
"To offer best and outstanding Insurance services within our working environment that embraces the spirit of one team, cooperation, honesty and mutual trust with our customers and other concerned parties"
Our Values:
Cooperation, Honesty, Mutual trust and the Spirit of one team."
Our Goals:
Distinguished corporate performance
Continuous expansion in our business and activities
Elevation in the satisfaction of our customers
To know more about our services? Feel free to contact us